Animal Toy Mini Good Luck Miniatures at Animal WorldŽ
Animal Toy Mini Good Luck Miniatures in alligator, areion, bee, barn owl, bear, beluga, blue tang, brachiosaurus, buffalo, butterfly, camel, cardinal, cat kitten, cheetah, chicken, chimp, clownfish, charolais cow, dachshund, deer, dimetrodon, dolphin, donkey, dragon, yellow duck, eagle, elephant, flamingo, fox, frog, poison dart frog, goat, golden retriever, gorilla, hermit crab, hippo, holstein cow, clydesdale horse, pony horse, shire horse, hummingbird, jaguar, jellyfish, kiwi bird, koala, ladybug, lion, manatee, manta ray, meerkat, moray eel, mouse, octopus, okapi, orangutan, orca, owl, panda, pegasus, penguin, pig, polar bear, pony, pterosaur, pufferfish, rabbit, raptor, rhino, rooster, sea lion, sea turtle, seahorse, scorpion, shark, sheep, spider, squid, starfish, stegosaurus, ray, t rex, toucan, triceratop, turtle, unicorn, blue whale, humpback whale, wolf woolly mammoth and zebra. " Warning Choking Hazard - Recommended for ages 3 and up "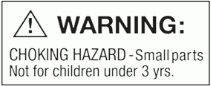 * Click on Animal Toy Picture for Special Quantity Discount Pricing *
* Quantity Pricing Available. Follow link for details.