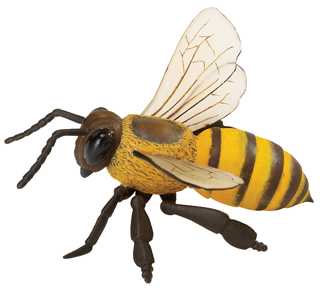 Bee Toy Large Replica Honey Bee
9721
Bee Toy Large Replica Honey Bee
1
Average rating:

Read all reviews
Bee Toy Replica Large Honey Bee is bee educational play fun at Anwo.com at Animal WorldŽ. Made of durable, extremely detailed, colorfast plastic, this bee toy replica is made over sized for excellent observation of the honey bee's anatomy. Perfect for play fun, education, school projects this bee toy measures a large 5.75"L x 7"W x 1.5"H. Shop our
Bee Gifts Bumblebee at Animal WorldŽ
for all our bee lover theme gifts. Shop our
Animal Toy Replicas at Anwo.com Animal WorldŽ.
page for a complete selection.
To order the Bee Toy Replica simply click on "Order":
Bee Toy Large Replica Honey Bee
1
Average rating:

Write a review
|
Read all reviews
Featured positive reviews:
Bee Toy Large Replica Honey Bee

Large Bumble Bee Toy Replica
11/11/2014
Nobody should ever attempt to handle real bees but everyone can safely handle this large bumble bee toy replica. Perfect for education or School projects.


You may also be interested in our Best Sellers: