Shark Toy Miniature Replicas at Animal WorldŽ
Shark Toy Miniature Replicas in blacktip reef, great white shark, basking shark, bull shark, hammerhead shark, hammerhead baby shark, leopard shark, nurse shark, shark ray, thresher shark, blue shark, tiger shark, whale shark, zebra shark and shark ray replicas for play fun, education, art, business, school projects and home decor from Anwo Animal WorldŽ. " Warning Choking Hazard - Recommended for ages 3 and up "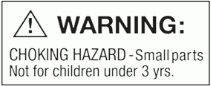 * Quantity Pricing Available. Follow link for details.