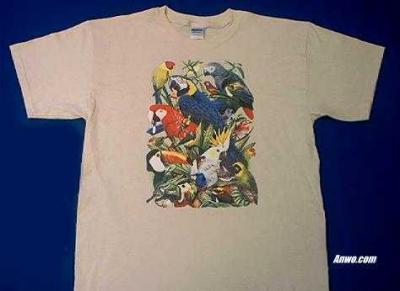 Tropical Birds T Shirt Adult and Youth Sizes USA
Be the first one to write a review
Quantity
1
2 - 5
6 - 11
12+
Price
$15.99
$12.99
$9.99
$7.99
Combine Animal WorldŽ printed shirts for price breaks.
Tropical Birds Shirt Adult and Youth sizes highlights a tropical jungle collage of birds and is printed in the USA by Animal WorldŽ. Featuring an African Grey, Cockatoo, Red Macaw, Blue Macaw, Toucan and many other colorful birds this Tropical Birds shirt is printed on comfortable natural color 100% cotton in all adult and youth sizes. Shop our
Wildlife Animal T-Shirts
page for our complete selection.
To buy the Tropical Birds shirt simply click on "Order": above: