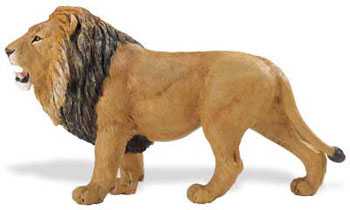 Lion Toy Large Male Lion
11152
Lion Toy Large Male Adult is lion lover educational, imaginative play fun at Animal WorldŽ. Made of safe, durable, colorfast plastic this Male Lion Toy Large is perfect for creativity, school projects and measures a large 9"L x 6"H x 3"W. To shop all our Lion Lover Theme Gifts click here:
Lion Gift Collectibles at Animal WorldŽ
To shop all our Animal Toy Miniatures click here:
Animal Toy Miniature Wildlife Replicas at Animal WorldŽ.
To order the Male Adult Lion Toy Large shown simply click on "Order" below:
Write a review
|
Read all reviews
Featured positive reviews:
Everything I expected
12/17/2017
The detail on this figurine is phenomenal. I bought about 10 of the large safari animals and it was worth every penny! My son is going to be overjoyed on Christmas day.
You may also be interested in our Best Sellers: