Kelly Clarkson Music Concert Video Fans Site
Kelly Clarkson Links at Sir Links a Lot
Email your comments to: Kelly Clarkson Music Concert Video Fan Site
New Articles Links
Kelly Clarkson: We the fans "do give a crap" June 18, 2007
Kelly Clarkson and Clive Davis - Conflict is path to Music Creativity June 7,2007
12-12-06 Kelly Clarkson "Breakaway CD Missed Opportunity for more hit singles"- Breakaway was an incredible CD however its legs were cut out from under it too soon. After Walk Away plays on the radio began to slow so did sales of the Breakaway CD. In the music industry Singles drive sales and 5 singles ("Breakaway", "Since U Been Gone", "Behind Hazel Eyes", "Because of You" and "Walk Away") was not enough. "Gone" was never released, it got airplay but it never was officially released. There were at least 2 if not 3 more singles that could have been released from the Breakaway CD (take your pick they are all that good) which would have easily propelled this CD into this Christmas seasons record sales. Sales of this CD could have easily reached 6 if not 7-8 million. US Breakaway CD sales are 5.6 million with sales worldwide at 10 million.. Instead of a CD that most people picked up it could have become a CD people would have "had to pick up". A must, a classic. I always want the best for Kelly since she is such an awesome talent, but I wish the world could have all been exposed to more of her singles from the Breakaway CD on the radio. Breakaway should have been the CD for all times with up to 8 hits, 8 million units sold in the US with every song a potential hit. The Kelly Clarkson Breakaway CD is that good. Don't ever put the brakes on something this good, .... let the fans decide when it is over.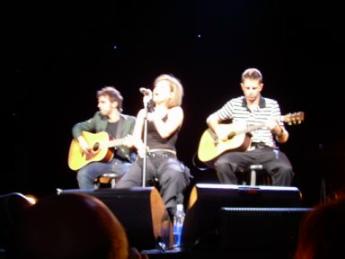 Kelly Virginia Beach July 7, 2006
12-04-2006 Kelly in Concert in VA Beach Review and Critique of "Addicted Tour Concert
It is December and it is time to finally write a critique review of Kelly's Concert this summer at the packed 20,000 seat Virginia Beach Amphitheatre. Kelly this summer during the Addicted tour was her best tour yet and we have seen her in concert 6 times now. The last 3 songs were incredible, from "Walk Away" to "Breakaway" and ending with "Since U Been Gone". When "Kelly" did Breakaway in the middle of the amphitheatre with just her guitarist it was absolutely the best I have ever heard it, just Kelly's voice and a guitar awesome. Then it started "Since U Been Gone" to look from the front of the amphitheatre all the way to the back (Kelly in the middle) with the entire place jumping up and down was a sight to behold. People high fived Kelly, and Kelly high fived them back, and When Kelly said jump (you know when) everybody starting bouncing, jumping and having a great time. We wanted more, more, more, Another huge moment in the concert came earlier when Kelly sang "Go". That was great, once again the place was jumping. The song "Go" even though it is known from the Ford commercial should be released as her next single and "GO" would also make a great name for CD # 3. Kelly started the concert with "Addicted". My favorite version of "Addicted" I have ever heard was during the "Breakaway" tour. In that one she started out solo and it built to an incredible crescendo and was the perfect arrangement for such a powerful song. The opening act song in the Addicted Tour was good but I not her best. The same is true for "Behind Hazel Eyes". The version in the Wedding dress during the "Behind Hazel Eyes Tour" was better and more fun. Which brings us to "Beautiful Disaster". We have heard it solo, with piano, with guitar however the version she has gotta do one day is the rock version in concert. I love the solo version but the best most powerful version would be if she would start solo build it into a rock and end back with it solo. I have it in my mind how it would go and it would be incredible. Last is the new songs, they were kind of rough but well received, "Maybe" "Yea" and a third song which was funky, rock and kinda fun. They were good but will need a lot of work to be up to the standard Kelly has now set for herself. All in all once again the "Addicted" tour was the best yet, a little on the short side, Kelly needs to build it up to at least an hour and a half. At most it was an hour and 20 minutes.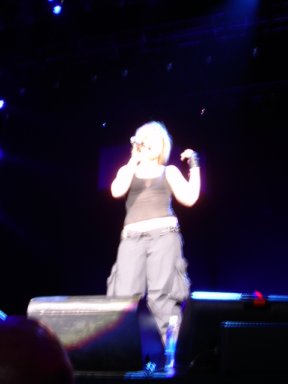 Kelly at Virginia Beach Amphitheatre Jul\y 7, 2006
11-27-06 American Idol Rewind: Simon Cowell "I just don't like that girl" referring to Kelly Clarkson
Boy does Simon ever change his tune later on, but in Hollywood Week as shown during the airing of American Idol Rewind.Simon Cowell is not in Kelly Clarkson's corner and it appears as if Randy Jackson and Paula Abdul are both the ones we should thank for pulling her out of the fire. I do agree with Simon Cowell, Kelly did not set the world on fire in Hollywood . During the reairing of American Idol season 1, American Idol Rewind we have learned a lot about how things went for Kelly Clarkson during her week in Hollywood. Her video bite of "Respect" Day 1 was good not great, her trio with Christina Christina Day 2 was "good" not great and her final audition Day 3 was good not great. It is easy to see that she almost got cut by Simon. Therefore many, many thanks to whoever gave her coaching after Hollywood Week final 30 and before Kelly did the second ten auditions to determine who would make the final 10. In that Kelly has her first of many "blow the competion away performances" With "RESPECT" with new Kelly during her 10 she has style, personality, and wow what a voice. The voice coach at American Idol she goes by the nickname "Birdie" must have taken Kelly aside and said something like Kelly if you want to make the next cut you really have to raise your game and Kelly definitely does. Also whoever did Kelly's hair did a great job, they got her hair out of her face and that way you could see all those cool beans Kelly expressions while she sang. Wow, what a difference. As Simon says in Hollywood week Kelly Clarkson was "Boring" however in her second group of 10 auditions Kelly is awesome. Simon will notice and he then becomes her biggest fan with all the rest of us.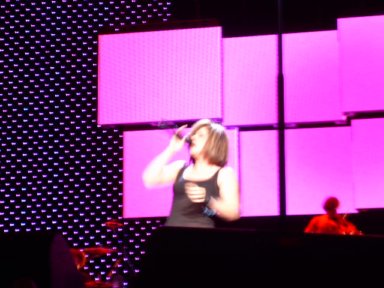 Kelly in Virginia Beach Amphitheatre July 7, 2006
4-23-06 Kelly Clarkson American Idol Randy Jackson makes remarks on Jay Leno Tonight Show about Season 1 versus Season 5.
Randy Jackson was on The Tonight Show with Jay Leno this past week. Jay Leno asked Randy if anybody from Season 1 could be on Season 5. Come on Jay. Randy said definitely "Kelly Clarkson would be there" I agree, that was correct and she would have probably won season 2, 3, 4 and 5 too. Hey Randy, what about Tamyra Gray or Justin Guarini or RJ from Season1? I would certainly rather listen to Tamyra Gray over Kellie Pickler, Paris or Katherine. If Ace was there then definitely Justin Guarini would have been there in fact he would have blown Ace away. Ace was weak and shaky where Justin was brimming with confidence. Then we have RJ who is very similar to Elliott and I would probably rather listen to RJ and I like Elliott since he is from Virginia. Could season 1 be there with Season 5 maybe not the bottom group but definitely the top group would have been favorites in any year. If you don't agree go back and watch Tamyra, Justin, RJ and of course Kelly. Without them especially Kelly, Tamyra and Justin grabbing Americas attention and putting out incredible performances that brought America in every week in ever increasing numbers there would have never been a season 2. I hated American Idol when it first came out, I admit it, but the great performances from Season 1 brought me in and I have been there ever since, but nothing replaces Season 1. When the reruns come this fall everyone will agree, season 1 is the foundation from which the show is and continues to be a dynamic new driving force in the music industry 4 years later.
4-19-06 Kelly Clarkson is coming back to our area for a concert at the Virginia Beach area to the Virginia Beach Verizon Amphitheatre. This is the largest venue in the area holding up to 20,000 people for a concert. It is a great place to go for summer concerts. It has about 8,000 seats under the roof and room for 12,000 on the grass.
4-18-06 The best part of a Kelly Clarkson concert is when it is just her and a piano or a guitar or just her. Then and only then do you hear her voice in all it's color. Each note she hits soft or strong seems to split into a chord within itself. It is awesome.
| | |
| --- | --- |
| Kelly in Concert in Nofolk VA July 26, 2005 | Kelly Clarkson is one of the most natural great female singers in a long time. She can sing rock like Janis Joplin or Pat Banatar, ballad like Mariah Carey, big band like Bette Midler and the motown blues like Aretha Franklin Although these comparisms have been made, Kelly opens up a new door with her unique style which comes through with every song she sings and each song she makes her own. Her abilty to bend a note the way Jimi Hendrix did on guitar and shape her jouney to and from each vocal note sets her apart from all others. In addition her vocal timing for approaching each note or verse is incredibly perfect and different. Her hesitation before certain vocal moments only builds in your anticapation to hear that note and she is a master of building a song to climax. She is already the one others are being compared to however there is only one Kelly Clarkson. Kelly is the girl next door with the world class voice and soon her songwriting ability will be recognized as well. |
| | |
| --- | --- |
| Kelly in concert in Norfolk Va Ted Constant Centre July 26, 2005. | Kelly in concert in Norfolk VA on July 26 2005 during the Behind Hazel Eyes Tour. This is the biggest Kelly Clarkson Tour to date and featured all but one song from the Breakaway CD plus several songs from the Thankful CD. Every song was fantastic and during the accoustic versions of "Because of You" "Breakaway" "Why" (Anne Lennox tribute) the audience was able to hear the full spectrum of Kelly's incredible voice. It seems as if when the song is stripped down to just Kelly's voice and piano or guitar the full color of her voice is on display. Her voice almost seems to split into a chord within itself and each note is a glorious experience often leaving the audience feeling chill bumps up and down from head to toe. When Kelly turns it up with "Since You Been Gone", "Miss Independent" or "Behind Hazel Eyes" the fun part of going to see Kelly in concert and the rocker in Kelly comes out. The Hazel Eyes Tour was awesome and the best time in her already incredible career. |
| | |
| --- | --- |
| | The "Breakaway CD" in a word is incredible. From the sheer power of "Addicted" to the acoustic "Breakaway" this CD takes you on a musical journey. Gone, Behind Hazel Eyes and Since You Been Gone, all rock and make you want to "turn it up" every time you hear it on the radio or when playing the CD. As good as the "Thankful" CD was the "Breakaway" CD is wayyy better. Every time you listen, something new is discovered. The best way to listen to the CD is to start with the acoustic "Beautiful Disaster" #12 then let Breakaway the first song come on it sounds much better when played as the second song. At the time of this writing, Breakaway, Since U Been Gone and Behind Hazel Eyes are already huge hits and Because of You is climbing the charts. Gone will most likely be the last planned single but will not necessarily be the last single, maybe Addicted will hit the hard rock stations. |
| | |
| --- | --- |
| | Kelly in concert Buffalo NY Aug 14, 2003 during her first solo tour. This was the night of the huge blackout in NY,PA and entire northeast, however the concert went on as scheduled using generators from the buses. THANK YOU Kelly!! For some fans who traveled 600 miles to see her in concert during her first solo tour it was awesome! The picture show Kelly with her guitarist and backup singers doing "Thankful" |
| | |
| --- | --- |
| | Kelly's Thankful CD commentary- Thankful is awesome start to finish A+. Great Rock Songs, Blues and Ballads. She took risks that no other idol has taken in her CD. Sales Double Platinum Excellent. She has released 3 singles. "Miss Independent" "Low" and "The Trouble with Love" Potentially there are 3 more hits on the CD "You Thought Wrong" "Beautiful Disaster" and "Just Missed the Train" Other singles could have also included "Some Kind of Miracle" or Anytime" |
Email:
| | |
| --- | --- |
| | This Website sponsored by Animal World Online "Your Animal and Pet Theme Gift Specialists" Click on sign to your left to enter online store. |