Unique animal crossing signs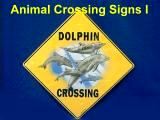 We've all probably seen deer crossing, snake crossing, horse crossing, and even dog and cat crossing signs. But if you're looking for really unique crossing signs, Animal World has some wild ones. Coming soon to your neighborhood:
Aardvark Crossing
Bat Crossing
Bee Crossing
Butterfly Crossing
Dinosaur Crossing
Dolphin Crossing
Hummingbird Crossing
Made of durable lightweight aluminum, these colorful animal crossing signs are sure to delight the avid animal lover and can be used for outdoor or indoor fun. Each measures 12" diamond square, has a hole for hanging, and is packaged in clear plastic. These animal crossing signs make superb gifts. Fun, functional and great for indoor and outdoor use.

Awesome Sandicast animal figurines online
Check out Animal World awesome collection of animal figurines online. In all sizes and styles, miniature to adult lifesize, these stunning collectibles dress up your decor, reflect your appreciation for animals, and can be used indoor and outdoor. Quality crafted of cast stone and hand painted, these adorable creatures look so real you'll want to reach out and touch them just to make sure!

We have cat figurines, dog figurines, wolf figurines, and a host of wild animal figurines. And be sure to browse our special Sandicast Forever Friends collection, which features adult animal with precious infants in adorable poses. All Animal World figurines are superbly crafted with remarkable detail to create unforgettable, lifelike images. You won't find a better collection of animal figurines online!