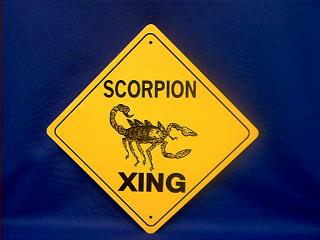 Scorpion Crossing Sign at Animal WorldŽ is fun, functional and really unique! Made of durable lightweight aluminum, this Scorpion Crossing Sign measures 12" diamond square and has two holes for easy hanging. To shop all our Scorpion Theme Gifts click here:
Scorpion Gifts at Animal WorldŽ
To shop our excellent selection of Animal Crossing Signs click here:
Animal Crossing Signs II at Animal WorldŽ
To order the Scorpion Crossing Sign simply click on "Order" below.
You may also be interested in our Best Sellers: